By J. Marcelo Gomez
Many consumers who are interested in food safety also express concern about animal welfare, rural economies, and environmental sustainability. But are these interests mutually exclusive?
Preventive Measures
In September 2016, the United States experienced the greatest reform in food safety laws in over 70 years by introducing the Food Safety Modernization Act (FSMA) Preventative Controls Rule for Human Food. This shifts the emphasis from reacting to food safety incidents to preventing them. At the same time, many media outlets have focused significant attention on a growing trend in food safety that places a priority on how food is produced. Here are a couple of examples that have come into focus recently:
The increasing amount of fertilizer being used for the production of cereals in Asian nations and
The production of cocoa that exposes children in Africa—and, ultimately, consumers around the world—to pesticides and chemicalsThis shifts the emphasis from reacting to food safety incidents to preventing them
There is a brand perspective here as well: consumers, especially millennials, perceive that companies that do good actually are good, and are more likely to provide healthy food as a result.
Global Issues
Food production is a complicated issue that touches on the economy, environment and social fabric of every country in the world. From a sustainability perspective, we can look at food safety as a key component that connects social issues and environmental issues, and provides a platform for making positive change in each area.
Here are some examples of what that looks like: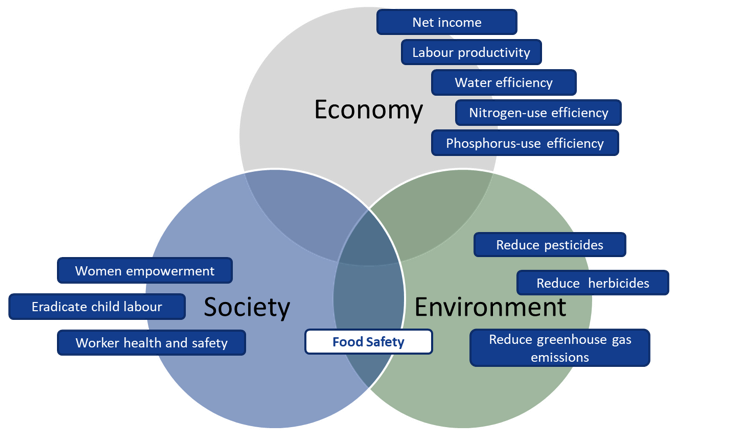 Cereal Production in Asia
Some Asian cereal exporters are currently unable to compete on price because of higher production costs that are related to the overuse of fertilizers. Hence, they must compete with several African and other Asian nations on quality and increase food safety and hygiene standards. Limiting their use of fertilizers gives them a brand advantage, while reducing the amount of farm-related chemical pollution of the environment. This is a win for food safety.
Cocoa Sustainability
The world is experiencing a cocoa sustainability crisis that stems partly from the fact that demand for chocolate is expected to outstrip supply by 2021. Cocoa is the economic and social backbone of hundreds of rural communities. While African nations provide more than 70% of the world's cocoa, research funded by the U.S. Department of State found 24.1% of children between the ages of 5 and 17 working in plantations, and 50% of children under the age of 5 have been injured while using cutting tools, pesticides, and chemicals. Although the voluntary 2010 Harkin-Engel Protocol agreement was developed so chocolate could be a clear-conscience product once again, it was deemed flawed as it failed to provide consumers with product-sourcing guarantees and, as of August 2017 its status remains unknown.
Pesticides and chemicals used in growing cocoa become part of the food supply chain destined for the shelves of grocery stores that consumers around the world purchase. From a sustainability perspective, the opportunity exists to improve conditions for working children, and reduce the industry's reliance on pesticides and chemicals.
The Importance of Food Safety in Sustainability
The safety campaigns of consumers and NGOs alike have pressured governments and companies in the developed world to expand and enforce standards and regulations in the food supply chain. As a result, governments in the United States and Europe have invested billions of dollars in food safety regulations and process control systems to deal with carcinogenic chemicals, hormones and antibiotics.
In developing countries, however, governments are not always as vigilant.  Although most initiatives to strengthen the food supply chain are initiated by advanced economies, food safety concerns continue to be a major issue in developing nations. This places people around the world at risk of chronic diseases and compromised immunity from food contaminants such as:
Microbial pathogens
Parasites, and
Pesticide residues
The Canadian Food Inspection Agency found that nearly 30% of 3,100 samples of domestic and imported food products tested contain harmful pesticide residues. This highlights the need for healthier food production methods that not only will meet the needs of future generations but that are also safe and healthy for society and the preservation of the environment. The key to supporting both food safety and sustainability lies in encouraging the governments of developed nations to continue tightening import regulations. There is still room for strengthening regulations that enhance the safety of the food supply chain and ensuring greater sustainable development. It remains to be seen whether governments around the world pick up the challenge and do something about it.
About the Author:
J. Marcelo Gomez is an associate instructor with APICS, and a food safety and sustainability consultant with Ensynk. He leads projects from food waste processing to global wholesale food distribution. He is undertaking doctoral research in food supply chain integration and sustainable development. He holds an MBA from Manchester Business School, and an MSc in Business and Management Research from Henley